Je eigen fotocollage maken
---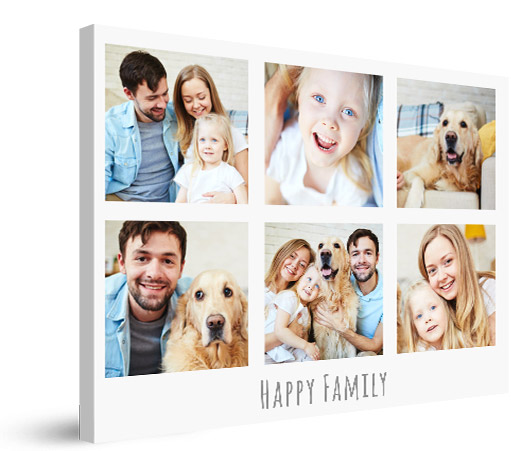 Voeg maximaal 100 foto's toe
Meer dan 250 gratis sjablonen
24-uurs service
Nu aan de slag
Verzendklaar:
vrijdag, 8 dec 2023

Meer dan 250 sjablonen gratis
---
Veelgestelde vragen
Hoeveel foto's passen op een collage?

We bieden sjablonen van 2 tot 100 foto's aan. In totaal zijn er meer dan 250 gratis sjablonen. Jouw voltooide collage kun je vervolgens in talrijke formaten bestellen.

Kun je tekst in collages invoegen?

Ja! We bieden ook talrijke tekst-sjablonen aan, waar je eigen tekst kunt invoeren. Deze teksten kun je met verschillende schriftsoorten en kleuren vormgeven.

Kun je collages als getal maken?

Ja, je kunt alle getallen van 1 tot 99 maken en met eigen afbeeldingen vullen. De getallen kunnen extra met tekst worden aangevuld.

Kun je collages als naam maken?

Ja, je kunt iedere naam als collage maken en met eigen afbeeldingen vullen. Zo kun je natuurlijk niet alleen namen, maar ook iedere andere tekst als collage maken.

Wat is de levertijd?

Het maken van een collage kan zeer snel gaan, dat is echter jouw persoonlijke opgave. Wij kunnen jouw collage naar wens met 24-uurs EXPRESS service drukken & leveren.
---
---
Fotocollage – een mooi cadeau idee
In tegenstelling tot een fotomozaïek is de fotocollage een aantrekkelijke mogelijkheid om meerdere foto's gelijkwaardig op een afbeelding weer te geven. Dit maakt een compositie mogelijk van je lievelingsfoto's samen op één afbeelding – een collage.
Bij ons kun je heel eenvoudig een fotocollage online maken. Daarvoor heb je alleen je geselecteerde foto's nodig. Wij stellen je onze software voor fotocollages online ter beschikking. Hierin kan je uit meer dan 250 collagesjablonen kiezen. Als je je foto's een keer in de software hebt geüpload, is het samenstellen van de collage een fluitje van een cent.
Welke fotocollages zijn er?
We bieden op onze sites meer dan 250 collagesjablonen kosteloos aan. Die onderscheiden zich qua aantal van de mogelijke foto's, door het gebruik van teksten of aan de hand van de verschillende themasjablonen.
Meer dan 250 gratis collagesjablonen
Fotocollage
Aantal
Met tekst
50
Zonder tekst
70
Vierkante sjablonen
44
Rechthoekige sjablonen
92
Themasjablonen
30
Aantal foto's
Wij bieden fotocollages aan met een mogelijk aantal van 2 foto's tot 100 foto's. Daarnaast onderscheiden de sjablonen zich door de rangschikking van de foto's. Wij bieden zowel creatieve als symmetrische collagesjablonen aan.
Collage met tekst
Fotocollages worden graag voorzien van tekst. Hiervoor bieden wij verschillende opties aan. Zo kan je voor de tekst op je collage kiezen tussen verschillende lettertypes, lettergrootten en kleuren. Dit biedt je de mogelijkheid om de tekst van je fotocollage individueel vorm te geven.
Themasjablonen
Voor speciale gelegenheden bieden wij themasjablonen aan. Zo vind je bijvoorbeeld in de rubriek reizen, bloemen, liefde, feest of dieren aantrekkelijke sjablonen voor je collage. Deze sjablonen zijn optimaal geschikt om af te drukken en komen vooral in groot formaat goed tot hun recht.
Hoe stel je een fotocollage samen?
Een fotocollage samenstellen is heel eenvoudig. Eerst upload je de geselecteerde foto's van je eigen harde schijf naar onze fotocollage software. Daar is een collagesjabloon voorgeselecteerd. Deze kun je voor een ander sjabloom worden verruilen. Je kunt kiezen uit 250 verschillende collagesjablonen.
Van de foto-upload 'mijn foto's', kan je je foto's heel eenvoudig in de gewenste positie op de collage slepen. Als het fotoformaat en de foto in de collage niet met elkaar overeenkomen, kun je de foto binnen de fotocollage aanpassen, door op het betreffende fotosymbool te klikken. De foto's in je collage kun je zo vaak je maar wilt opnieuw rangschikken. Als je de perfecte fotorangschikking voor je collage hebt gevonden, klik je eenvoudig op collage samenstellen.
Waarop kun je een fotocollage afdrukken?
Wij bieden je verschillende materialen voor de druk van je collage aan. De meeste klanten kiezen voor de fotocollage op canvas. Die is op grond van haar chique oppervlaktestructuur en het aantrekkelijke houten spanraam bijzonder in trek. Maar ook posters, plexiglas of aluminium zijn geliefd materiaal om je eigen collage op af te drukken.
Fotocollage als kalender
De collage wordt ook graag als kalender gebruikt. Hier kan je het kalendergedeelte verfraaien met zelf gekozen foto's. Zo ontstaat er een collage kalender van eigen foto's, die je het hele jaar je mooiste foto`s laat zien. De collage kalender is in verschillende sjablonen verkrijgbaar.
Fotocollage informatie
---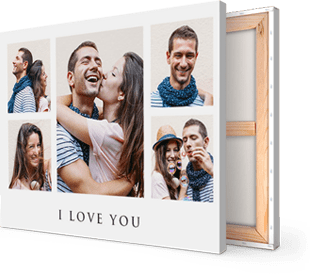 ---
Collage uitvoeringen
Collage met tekst
Themajablonen
Vierkante collages
Facebook sjablonen
---
Speciale collage sjablonen
Party
Liefde
Vakantie
Bloemen
etc.