Het klassieke mozaïek
De fascinatie voor een mozaïek is niet echt gloednieuw. Want het mozaïek is een kunstvorm die al bekend is sinds de oudheid. Uit kleine bonte steentjes of stukjes glas wordt een afbeelding samengesteld. Zo ontstonden er in paleizen en villa's in de oudheid beroemde kunstwerken. Ook tegenwoordig nog berust de voorstelling die we hebben van mozaïeken op deze afbeeldingen van antieke werken.
Door de eeuwen heen is deze techniek bewaard gebleven en was voor de decoratie van representatieve bouwwerken van belang. In de tijd van de renaissance en het classicisme werd hun betekenis telkens groter. In deze vroegere tijden waren de klassieke oudheid en hun ambachtelijke decoratie in de vorm van een mozaïek in de mode. Toch zijn mozaïeken tegenwoordig nog in tal van representatieve bouwwerken van nagenoeg alle tijden te zien.
Als verwant aan het mozaïek als kunstvorm geldt ook het pointillisme, een stijlrichting in de schilderkunst waarover in haar tijd controversiële discussie bestond. Ze beleefde haar bloeitijd bij de overgang van de 19e naar de 20ste eeuw. Het pointillisme is op dit moment met name door de schilderijen van Paul Signac, Henri Edmond Delacroix of Georges Seurat in de huidige kunstgeschiedenis vertegenwoordigd.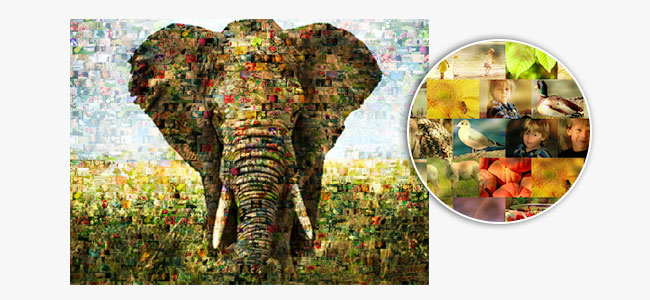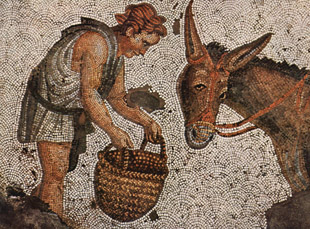 Het moderne fotomozaïek
De moderne fotomozaïek is gebaseerd op hetzelfde idee: ook hierbij ontstaat uit vele kleine kleurrijke vlakken een groot totaalbeeld. Met het doorslaggevende verschil, dat de mozaïeksteentjes – de foto's– zelf ook weer een afbeelding zijn. Zo ontstaat de fascinerende impressie van de twee beeldniveaus. Aan de ene kant het hoofdmotief, dat de totaalindruk van de foto bepaalt. En daarbij vele honderden tot duizenden afzonderlijke foto's. Zo ontstaat de fotomozaïek: een foto van vele foto's.
De combinatie van moderne computertechnologie en digitale fotobewerking maakte in de jaren negentig het maken van fotomozaïeken op de computer mogelijk. Deze ontwikkeling vond vooral plaats in de VS. Meerdere Amerikanen claimen zelfs dat ze het fotomozaïek hebben uitgevonden.
Een prominente rol in de ontwikkeling van de fotomozaïeken speelt in ieder geval de Amerikaan Robert Silvers. De toen 27-jarige ontwikkelde in 1995 aan het MIT (Massachusetts Institute of Technology) te Cambridge een algoritme, dat de optimale rangschikking van een groot aantal fotobestanden in een totaalmotief mogelijk maakte. Deze technologie werd in tal van landen ten gunste van de uitvinder gepatenteerd.
Robert Silvers was daarna werkzaam als fotomozaïek kunstenaar. Tot zijn werken behoren zowel de portretten van beroemde mensen zoals Marylin Monroe, maar ook de artistieke bewerking van klassieke schilderijen. Vermeer's Het Meisje met de parel of Botticelli's De geboorte van Venus werden door de kunstenaar op deze wijze opnieuw geïnterpreteerd.
Welke fotomozaïek varianten zijn er?
Tegenwoordig zijn er tal van methoden om fotomozaïeken te maken. Maar slechts weinig hadden succes. Een complexe rangschikking van de afzonderlijke foto's vinden de meeste kijkers aantrekkelijk. Zo wordt de indruk versterkt, dat uit een schijnbaar chaotische structuur een exact hoofdbeeld ontstaat. De fascinatie voor fotomozaïeken is onder andere gebaseerd op deze vermeende tegenstrijdigheid.
Een fotomozaïek met zowel staand als liggend formaat is populair. Het voldoet aan de ene kant aan de behoefte aan complexiteit en weerspiegelt tevens de reële uitgangspositie bij het maken. De originele foto's zijn vaak in een mix van staand en liggend formaat beschikbaar.
Als er alleen foto's in liggend formaat beschikbaar zijn, wordt er een fotomozaïek van lineaire fototegeltjes gecreëerd. In principe kunnen de foto's op verschillende manieren worden gerangschikt: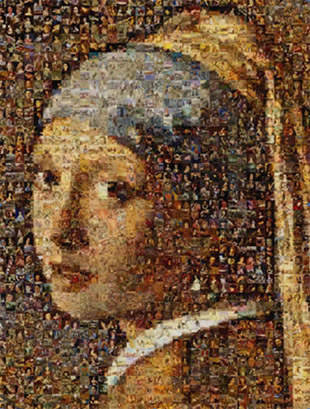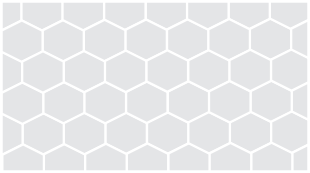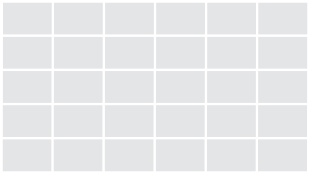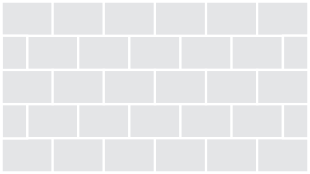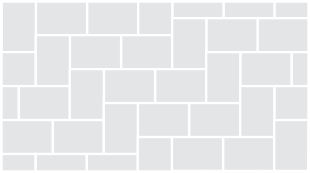 Hoe ontstaat het totaalbeeld in de mozaïek?
Tegenwordig worden er hoofdzakelijk drie varianten gebruikt, om uit een fotomozaïek een hoofdfoto te maken:
De afzonderlijke foto's krijgen een kleurwaarde en worden tot een fotomozaïek gemaakt. Zo krijgt de afzonderlijke foto weer een antiek, gekleurd steentje. Er ontstaat dus een klassiek tegelmozaïek – maar dan van foto's. Deze kleurvarianten kunnen ook uit een enkele foto worden gemaakt.
De afzonderlijke foto's worden volgens overeenkomst in kleurschakering gesorteerd. De afzonderlijke foto met de grootste overeenkomst in kleurschakering wordt op de desbetreffende plaats in het hoofdmotief geplaatst. Hiervoor heb je een heel groot aantal foto's nodig om een optimaal resultaat te bereiken. Het resultaat kan ook worden verbeterd door de afzonderlijke foto's sterk te verkleinen.
De afzonderlijke foto's worden voor een deel ingekleurd met de kleuren van het hoofdmotief. Zo bereikt men al met minder dan 100 foto's een goed resultaat en is het hoofdmotief beter te herkennen. Om het aantal foto's te verhogen, kunnen foto's gespiegeld, bijgesneden of uitgerekt worden.
Kun je de afzonderlijke foto's nog herkennen?
De grootte van de afzonderlijke foto's is een belangrijke factor voor de gedetailleerdheid van de hoofdfoto. Hoe kleiner de afzonderlijke foto's zijn, hoe gedetailleerder het hoofdmotief afgebeeld kan worden. Als de afzonderlijke foto's klein afgebeeld worden, kun je het motief echter moeilijk herkennen. Daarom zijn in de praktijk rasters tussen de 1 cm en 3 cm vaste prik geworden.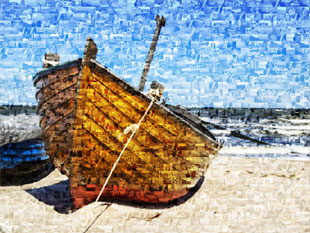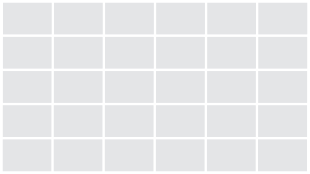 Grote afzonderlijke foto's
Gebruik van grote afzonderlijke foto's maakt het hoofdmotief onrustiger. De motieven van de afzonderlijke foto's zijn weliswaar goed te herkennen – maar ze leiden af van het hoofdmotief. Dat geldt met name voor afzonderlijke foto's met pregnante beeldcontouren.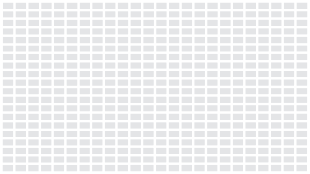 Kleine afzonderlijke foto's
De kleine afzonderlijke foto's leveren door hun aantal en de geringe gedetailleerdheid een homogenere hoofdfoto. Vanwege de geringe grootte van de afzonderlijke foto's zijn hun motieven echter moeilijker te herkennen.
Hoeveel afzonderlijke foto's heeft een fotomozaïek?
Het aantal van de afgebeelde afzonderlijke foto's is van doorslaggevende betekenis voor het totaalbeeld van de mozaïek foto. De optische werking hangt af van twee factoren:
Het eindformaat van het te creëren bestand
De vastgelegde grootte van de afzonderlijke foto's
Al naargelang de instelling van deze factoren varieert de totale indruk van de fotomozaïek aanzienlijk. Alleen een evenwicht tussen de beide waarden leidt tot een optimale totaalindruk van de foto. Hierbij gelden de volgende verbanden: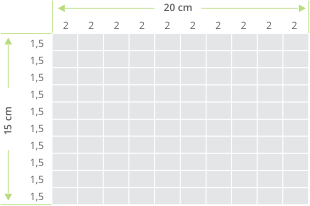 Fotomozaïeken worden vandaag de dag als schilderijen gebruikt. Daarom ligt het afleveringsformaat in de regel op 90 x 60 cm of groter. Hoe groter het afleveringsformaat, hoe meer afzonderlijke foto's er op de mozaïek foto te zien zijn.
Bij een grootte van een afzonderlijke foto van 2,5 centimeter in de breedte en 1,5 centimeter in de hoogte levert dat voor een afleveringsformaat van 20 x 15 centimeter de weergegeven waarden op.
Aantal afzonderlijke foto's bij verschillende eindformaten
| Formaat in cm | Aantal afzonderlijke foto's |
| --- | --- |
| 30 x 20 (ca. DIN A4) | 200 foto's |
| 40 x 30 (ca. DIN A3) | 400 foto's |
| 60 x 40 (ca. DIN A2) | 750 foto's |
| 80 x 60 (ca. DIN A1) | 1500 foto's |
| 120 x 90 (ca. DIN A0) | 3500 foto's |
| 160 x 120 (ca. DIN 2A0) | 6200 foto's |
Als de afzonderlijke foto's zich niet moeten herhalen, is het complete aantal afzonderlijke foto's nodig voor vervaardiging van de mozaïek foto. Normaal worden echter aanmerkelijk minder afzonderlijke foto's gebruikt.
Daardoor doen zich herhalingen van foto's voor, die eveneens een fascinatie van de fotomozaïek uitmaken. Want het vinden van fotoparen is een geliefde manier om zich bezig te houden met het mozaïek. Daardoor ontstaat er een soort memoryspel effect. Bij grote mozaïeken met meerdere duizenden foto's doen zich tal van herhalingen voor.
Als er voor een fotomozaïek bijzonder weinig foto's zijn, kan het aantal foto's door fotomanipulaties worden uitgebreid. Hiertoe worden foto's gespiegeld of fotofragmenten gemaakt. Dit vergroot het aantal foto's en verhoogt de gewenste diversiteit in de beeldopbouw van de mozaïek foto.
Tegenwoordig gebruik van fotomozaïeken
Hoewel de vervaardiging van fotomozaïeken nu al bijna 20 jaar een bekende en populaire niche van de fotografie is, heeft deze niets aan fascinatie ingeboet. Het fotomozaïek biedt de mogelijkheid veel afzonderlijke foto's in het motief van de hoofdfoto weer te geven.
Steeds als er een groot aantal foto's ontstaat, kunnen die door een mozaïek origineel en imposant worden samengevat. Deze kracht van de mozaïek foto wordt tegenwoordig voor verschillende aanleidingen benut – en heel vaak voor:
Verjaardagen, jubilea, gedenkdagen, bruiloften
Feestelijke aanleidingen van elke aard worden gebruikt om een fotomozaïek cadeau te doen. De afzonderlijke foto's vertellen hierbij vaak over het leven van degene die het cadeau krijgt, terwijl als hoofdfoto degene(n) die het cadeau krijgt/krijgen afgebeeld is/zijn.
Vakantie, reis, evenement
Hierbij is de fotomozaïek aantrekkelijk door de mogelijkheid die het heeft om veel fotografische indrukken (afzonderlijke foto's) een kader te geven (hoofdfoto). Juist in de vakantie ontstaat er een groot aantal foto's, die op die manier aantrekkelijk samengevat kunnen worden.
Baby en kinderen
Aan kinderen wijden wij onze fotografische aandacht op een speciale manier. Daarom bestaan er meestal tal van foto's van kinderen. Hier biedt de fotomozaïek de kans om 2 opzetten met elkaar te combineren. Het afdrukken van de vele foto's kan met een groot formaat foto van je eigen kind gecombineerd worden.
Artistiek gebruik
Nog altijd biedt de fotomozaïek veel ruimte voor een artistieke bewerking. Want nog altijd maakt het gebruik van de samenhang van de werking in het groot uit de som van zijn (kleine) delen.
Ondernemingen
Ook ondernemingen gebruiken fotomozaïeken voor hun communicatie. Hier staan 2 opties op de voorgrond: fotomozaïeken worden gebruikt, om bedrijfsevenementen of feestelijkheden vast te leggen. De meest populaire aanleiding is echter, de medewerkers of het activiteitengebied van de onderneming af te beelden. Als hoofdfoto wordt hierbij meestal het logo gebruikt.